Sno-going is easier than skiing and snowboarding making sno-going the fastest growing alternative to having fun on the mountain slopes.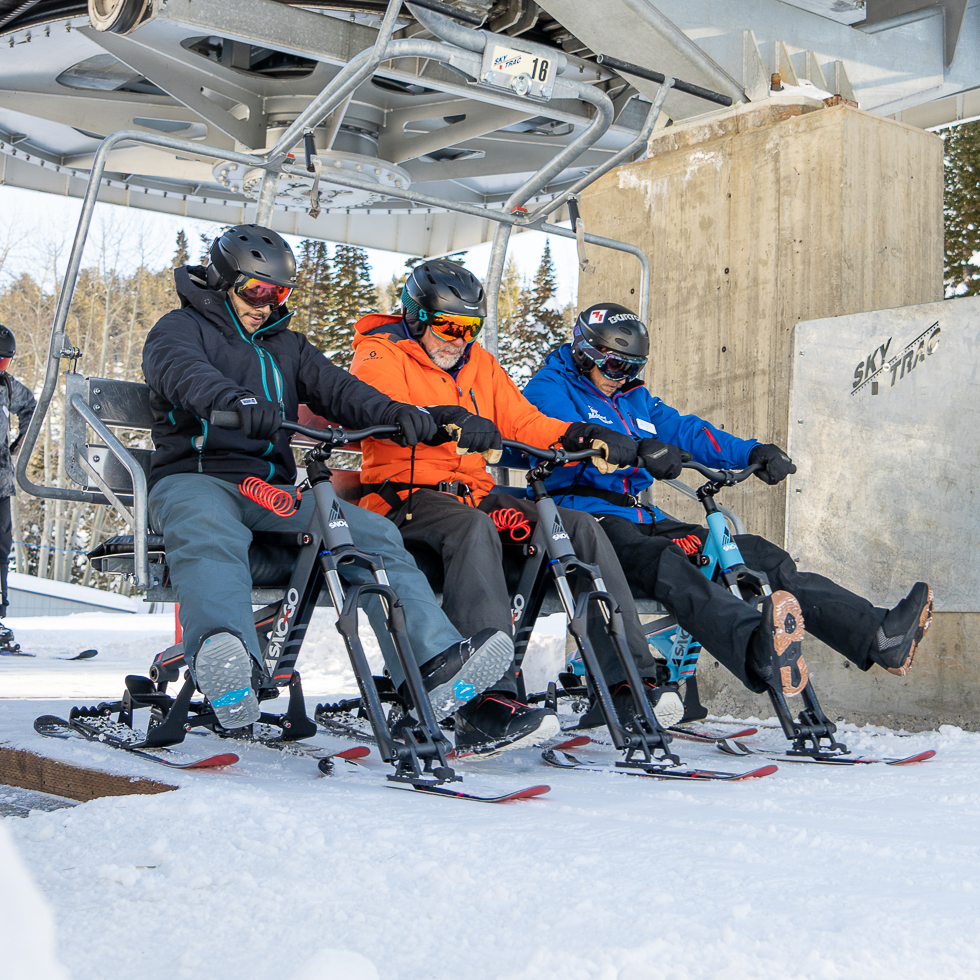 Is it really easier than skiing or snowboarding?
The learning curve on a SNO-GO is so quick that 80% of users find themselves comfortable on intermediate slopes by the end of their first day. With a very simple tip "lean - don't steer" most people are able to navigate a SNO-GO down a beginner slope and link turns within a few attempts.
How do you get on the Chairlift?
The chairlift hook allows a SNO-GO to be efficiently carried up the mountain by any standard lift for easy loading and unloading. Specific positioning and design keeps your SNO-GO counterbalanced on the seat while you enjoy the views.
How do you stop?
To turn and stop, just lean on the handlebars. SNO-GO's exclusive 3 ski design works like magic to control your skis for you just by leaning your body to the left or the right.
Is it safe?
There's no doubt about the inherent risk in snow sports. After a few years of testing and thousands of participants, SNO-GO has collected data which shows that SNO-GO's are much easier to control than skis, snowboards and other ski bikes making the potential of crashes less likely for new participants of existing snow sports on the mountain.
Do resorts allow SNO-GOs?
Yes. Absolutely, but not every resort at this time. There are over 200 resorts in North America that allow SNO-GO bikes. See the full list of SNO-GO locations.
How do I travel and transport a SNO-GO?
SNO-GO's now come 90% pre-assembled. With a few quick turns of a couple bolts and following the remaining steps from the 3 Point Quick Release assembly, anyone can assemble their own SNO-GO straight out of the box and reuse the box for travel.
Do I need lessons?
SNO-GO is Endorsed by the Professional Ski Instructors of America and the American Association of Snowboard Instructors. Our Premier Partner resorts offer lessons and we always recommend that first timers take a 1 hour introductory lesson and at minimum, watch our quick start tutorial video.
Do they work in powder?
SNO-GO offers a wider powder ski that charges harder and floats through the powder with speed and stability needed when the snow gets deep or varied. It even holds an amazing edge on the hard park and is the preferred ski by advanced SNO-GO team riders.
Can I gift a SNO-GO?
SNO-GO offers the best gift ever! You can purchase a gift card in various amounts to help your loved one acquire their dream bike this winter.
Looking for the SNO-GO Owners Manual? - Click Here