We ride SNO-GO's for fun, the laughs and the thrill of the wind in your face, but last April Brodrick Nickens of Breckenridge, Colorado decided he would give that a whole new meaning. This story, originally shared by Snow Brains blew all of our minds here at SNO-GO when we got the email from Brodrick. But, the proof speaks for itself. Here's a screen shot from Brodrick's EpicMix tracking app.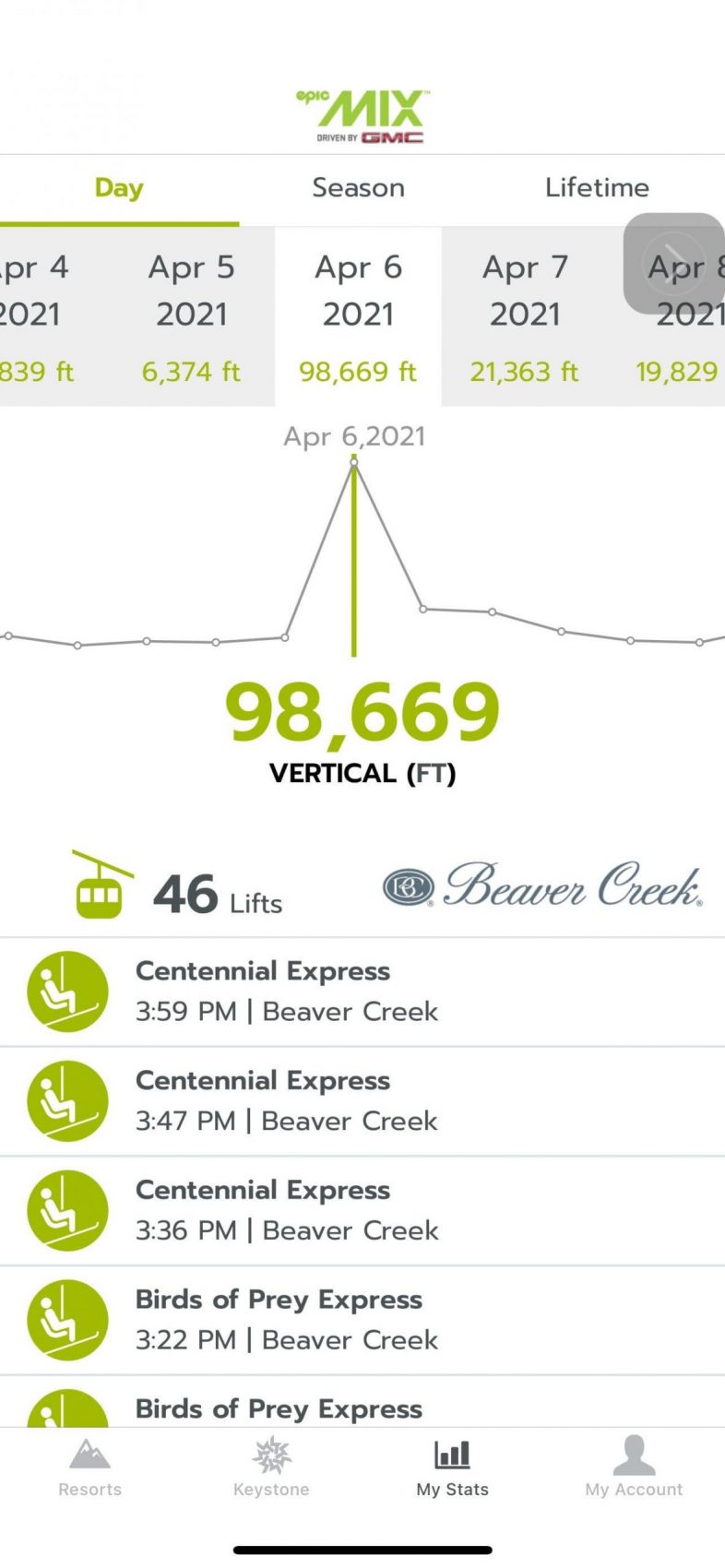 Brodrick formerly played D1 football for the Nebraska Cornhuskers so he's no stranger to competition. After college, Brodrick moved to Breckenridge to start a new venture renting SNO-GO's. An idea inspired by his mother who was not a fan of skiing or snowboarding when they would go on their family ski trip. Last season, Brodrick began renting SNO-GO's under the company name Oneup Sportz servicing several resorts on the I-70 corridor in Colorado. The vision for the 100,000 foot record came shortly after when Brodrick discovered an article citing Jonathan Boblitt's 90,000 foot record.
"The competitive side of myself said, 'all records are meant to be broken and I will be that person who breaks your record. Not only will I break your record, I'm also going to do it on a ski bike that is unproven.'"
– Brodrick Nickens
The only thing stopping him from breaking the prized 100,000 vertical foot mark was making "one more chair lift," Brodrick remarked. Beaver Creek had closed and the cherished prize will have to wait for another season.
We love this feat for 3 reasons.
1. Brodrick proved that even at incredibly high speeds averaging upwards of 50 mph through an entire day, he attests his ability to stay in control and combat fatigue to the SNO-GO bike and it's well built design.
2. He ate Pop Tarts and drank water on the lift to stay fueled.
3. He's doing this for his Mom. Go Brodrick!
Make sure you check out Brodrick's Oneup Sportz SNO-GO rentals this season if you're taking trip to the Summit County area of Colorado. He has various packages to choose from depending on your group size and duration of your trip.